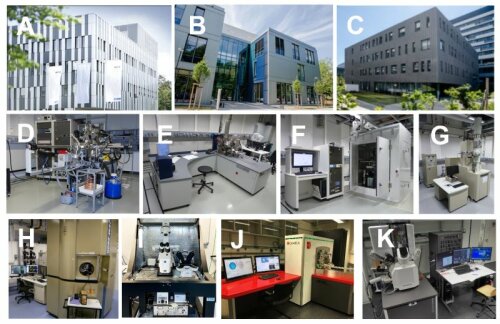 The exploration of real-structure-activity relationships in catalysis inherently necessitates a detailed analysis of all materials within the CRC. For this purpose, the service project S was already employed in the first funding period of the CRC. Providing state-of the-art spectroscopic and microscopic techniques, will continue playing a major role in the second funding period. Within the last four years, preparation and characterization protocols were developed and adapted in view of the specific demands of the research projects in Areas A, B and C. Analytical results including reference data of relevant standard materials were made available for all research groups on a web-based platform. This work will continue in the second funding period.
The service project S takes advantage of the DFG core facility ICAN (Center for Nanointegration Duisburg-Essen), which organizes and operates a microscopy center in the NanoEnergieTechnikZentrum (NETZ) of the University of Duisburg-Essen. Available techniques include an aberration-corrected Scanning Transmission Electron Microscopy STEM/TEM) with EELS and EDX analytics, a high-resolution SAM, an AFM/SPM, a nanofocused TOF-SIMS with FIB option and a microfocused XPS with UPS analytics.
At the Ruhr University Bochum, the service project S will take advantage of the national unique and internationally leading institutions – the Center for Solvation Science ZEMOS (Zentrum für molekulare Spektroskopie und Simulation solvensgesteuerter Prozesse) and the Center for Interface-Dominated High-Performance Materials ZGH (Zentrum für Grenzflächendominierte Höchstleistungswerkstoffe). For surface characterizations the CRC will use the state-of-the-art techniques of these centers. The ZGH will provide access to an Atom Probe Tomography (APT) setup, in close proximity to a Focused Ion Beam (FIB) and SEM equipped with a micromanipulator and Electron Backscatter Diffraction (EBSD) detector, whereas TEM in vacuum or in a liquid cell and (electrochemical) AFM, and conductive AFM analyses will be carried out at the ZEMOS facilities.
These central facility microscopy techniques are complemented by further analytical techniques within the research groups of the CRC. This allows for a comprehensive characterization of the (real) structure of the nanomaterials under consideration, of both, at the surface and in the bulk.
(Figure: Photographs of the research buildings: (A) NETZ (UDE), (B) ZEMOS (RUB) and (C) ZGH (RUB). Major analytical techniques at ICAN: D) XPS, E) TOF-SIMS, F) SAM, G) TEM, ZEMOS: H) TEM, I) AFM and at ZGH: J) APT and K) FIB).